I was born in July 6, 1976, in Aksaray, Turkey. I lived in Gulsehir, a small beautiful town of Nevsehir in Cappadocia in Central Anatolia, for most of my childhood (1978-1987). We moved to Aksaray and then to Mersin. At Icel Mersin Anatolian High School, I played volleyball: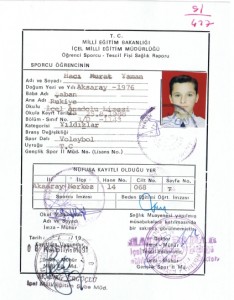 and won several prizes in Turkish volleyball championships: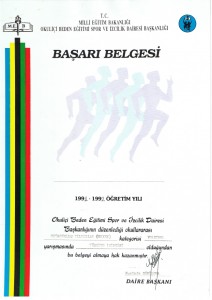 and learned science and math (1989-1994) with GPA 3.98 over 5.00: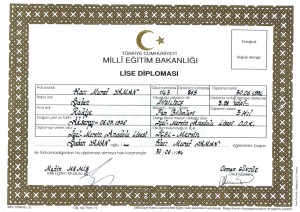 I got a BS degree in Math from Koc University (1994-1998) with GPA of 3.20 over 4.00.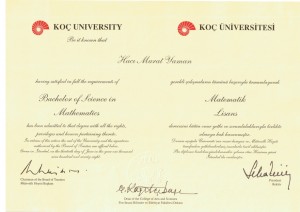 During my studies, I've been presented an award from the president of Koc University: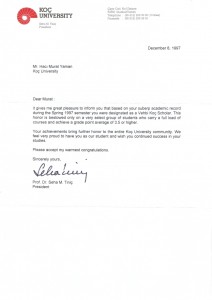 For about 8 months, I worked for a textile company (1998-1999), from 8/8/98 to 5/5/99 to be exact!
Then, I have attended Marmara University Faculty of Engineering towards master of science degree in Computer Science and Engineering (1999-2002). The dean of Marmara University Faculty of Engineering kindly granted an award for my part in implementing the quality standards at the university: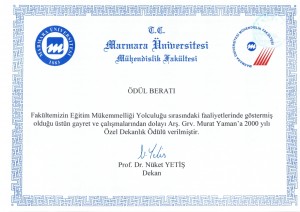 During numerical analysis course, I started programming in the first months of 1997. I learned Fortran (77 and 90) and Visual Basic (3.0 and 4.0) together with databases Microsoft Access (2.0, 95, 97) and Microsoft Excel with VBA macros for operations management and optimizations. I worked on Wavelet Theory and its applications on world stock exchange markets.
I can say that at Marmara University I got the real logic behind programming esp. after attending digital design, programming languages, compilers, databases and e-commerce courses. With the help of fantastic instructors, I had a better understanding of various programming languages such as Ada, C, Pascal, C++, Java, Prolog. I wrote C++ console applications for Artificial Intelligence and Fuzzy Logic theory to work on ECG heart signals.
I had a chance to be a research and teaching assistant (for database and software engineering courses). I also maintained and improved student affairs database application written using Delphi and Interbase. I wrote a small ASP web front-end for students. I showed Oracle and MS SQL Server databases to my students. I taught Visual Basic courses. With a close friend of mine (Yusuf Sahin), I administered faculty's web and email servers running on Solaris, Linux and FreeBSD. I always liked trying and learning new things. Perl and PHP were two of these. On my spare times, I worked as a freelance programmer.
I got married in October 2002. I resigned from my job at Marmara University, and came to the UK.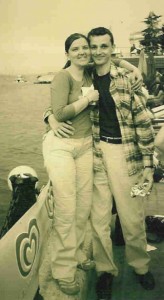 For a few months I worked at various odd jobs. After I met Matthew Bell and finished two projects for Bell IT 2000 Ltd (now Bell ICT Ltd) within 6 months, I established Argeus. I also became a partner at Employee Share Plans Software Ltd in 2006.
Since then I have been programming, maintaining and managing database applications on Microsoft (IIS, Access, SQL Server, ASP) and open source platforms (Linux, Apache, Firebird, MySQL, PHP, JavaScript, HTML, CSS, XML).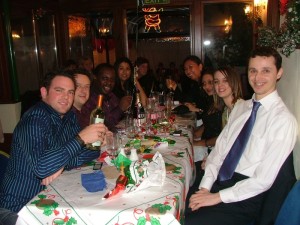 Some of the clients I have worked for, directly or indirectly, are:
1st Step UK
4-rail
Amba Construct
Amiran Kenya
Amiran Zambia
ASDA
ASOS
A Target Trading
Atateks
Atheni
Aviva
Axa
Balton CP Holdings
Balton Tanzania
BBC
Black Cat Couriers
Blockbuster
Boohoo
Capita
Carphone Warehouse
Caroline Charles
Caroline Webster
Channel 4
CIF UK
Comic Relief
creative zones
Dash Locums
Digital Annexe
Dizengoff Ghana
Dominos
Dramatic Media
Dynamic Webs
Elite Limousines
EasyJet
Everlution
Expedia
Financial Times
Find Fashions
Fresca Group
Gala Coral
GDS
Google
Gorkana
Hertz
IMMAF
InfoActive
IPC Media
J De Bruyn Flooring
John Lewis
Knighton Group
Last Minute
LBi
Lloyds Bank
Marks & Spencer
Mercedes-Benz
Money Advice Service
My Next Match
My Beauty Secrets
Nokia
O2
Orange, Everything Everywhere
Oxford Education Consultancy
Paramount
Playboy
Plextek
RS Locums
Sainsbury's
Saffron Digital
Schuh
Sky
Standard Life
SWARCO UK
Tesco
The Automation Partnership
The Locum Placement Group
UCL
Unipart
Virgin Atlantic
What Users Do
Woodford Heating
Zoo Fashions